After three years with the Parkland U18 Rangers, Rylan Gibbs is now living out his junior dream. Growing up Rylan would spend many nights inside Credit Union Place cheering on the Dauphin Kings to victory and now, he's the one on the ice competing for the Kings.
Gibbs is well into his rookie campaign with Dauphin having played seven of the team's eight games heading into this weekend's home-and-home with the Steinbach Pistons. Pair a wicked release with Rylan's speed and the future for the 18-year-old is extremely bright but he's not focused on the future, he's focused on the now.
"I've really enjoyed my time with the organization, maybe a little nervous to start," said Gibbs. "I'm starting to settle in now and I'm loving every second."
Gibbs admits to having struggles gaining confidence early in his first junior season. It's a daunting task for most players making the jump from AAA hockey to junior with the pace of play getting faster and opponents being bigger and stronger than at the AAA level. Rylan continues to prove that with hard work and dedication, great things can happen and he gained confidence last weekend in what turned out to be a special weekend for the Dauphinite.
Playing the Winnipeg Blues on Friday night in front of his family and friends, Gibbs received a pass near the left post, went to the backhand and outlasted Brock Moroz to score his first goal as a King. The assists on the goal went to fellow Dauphinites Garrett Hrechka and Carter Zalischuk.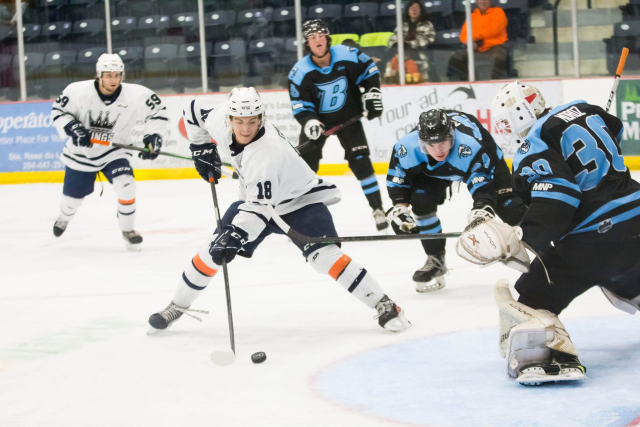 Credit – Doug Zywina/Dauphin Herald
Dauphin would end up losing the game but scoring that goal will still go down as a moment that Rylan won't forget.
"It's pretty cool that I got that done in front of my family, friends and hometown crowd," said Gibbs. "It was a special moment. The ultimate goal at the end of the day is getting two points every night but I'm still happy that I was able to get that first one out of the way."
Then fast forward less than 48 hours and Gibbs was back at it. It took him six games to score his first and when he did, he scored two in as many games as he scored Dauphin's fourth goal in the team's 6-4 win over the Blues on Sunday. Gibbs is starting to show that he can take over a shift with his speed and compete and he will be a tough player to handle for every opponent he goes up against.
Coming off that 6-4 win, Gibbs believes the team is starting to click more together ahead of an important home-and-home with the Steinbach Pistons. Friday's game at Credit Union Place will be the first game between the two clubs since last year's game seven at T.G. Smith Centre, a game that was won by the Kings.
"They're going to be hungry and so will we," said Gibbs. "Them being 7-0 doesn't matter to us. We're just going to go out and hopefully, we can get four points."
The two teams will then meet on Sunday afternoon in the Automobile City at 2:30 and you can hear that broadcast right here on 730CKDM.
Favourite moment as a King? Scoring my first goal against the Blues
Favourite sports teams? Winnipeg Jets and Toronto Blue Jays
What is your favourite childhood memory? Playing summer hockey in Brandon
What's your go-to pregame meal? Spaghetti and meat sauce
What's your next hockey dream after making the Kings? To play college hockey
What is your favourite hobby? Golf